For Austrian triathlon, the Ironman in Klagenfurt (Carinthia) is one of the biggest flagships in the scene. The race is internationally known and renowned. The long distance competition covers 3.8 km of swimming, followed by 180 km of cycling and completed by a 42 km long marathon. Each of the disciplines offers a special scenic feature. Swimming through a turquoise-blue Wörthersee with drinking water quality. The two 90 km laps of the bike course lead along the southern shore to the Fakeer See, over the Carinthian hinterland with a great panoramic view, back to Klagenfurt. Along the canal and through the heart of the city, the participants are constantly fighting against exhaustion and time.
In the short term there was the possibility to get a spot for the sold out spectacle. So it came to the Chase debut at an Ironman event. For Felix, basically a bike specialist, this meant full concentration on a good cycling time.
The aerodynamically optimized material should form the basis for a fast wheel split. A skinsuit with an accurately pinned starting number, a disc wheel in a striking and matching design, fitting the Rams Cycling time trial bike and the newly developed  Chase APS – Aero Performance System– a handlebar cockpit for time trial, track and triathlon bikes that enables an aerodynamic and at the same time power-saving posture.
Over a distance of 180 km, the management of forces as well as the fluid and energy balance is of the highest importance. Turning into the red area once too often or skipping a feed zones could affect overall performance.
The first lap was marked by many overtaking manoeuvres, but did not reduce the average speed. The Pacing was around 220-225 watts and felt good until halfway through the second round. Both the ascent to the Faker See, as well as the Rupertiberg with more than 300 watts could be attacked to immediately return to the aeroposition and to bring the bike up to speed.
After an average of 4:53 and 36.5 km/h Felix was able to park the bike in the transition zone.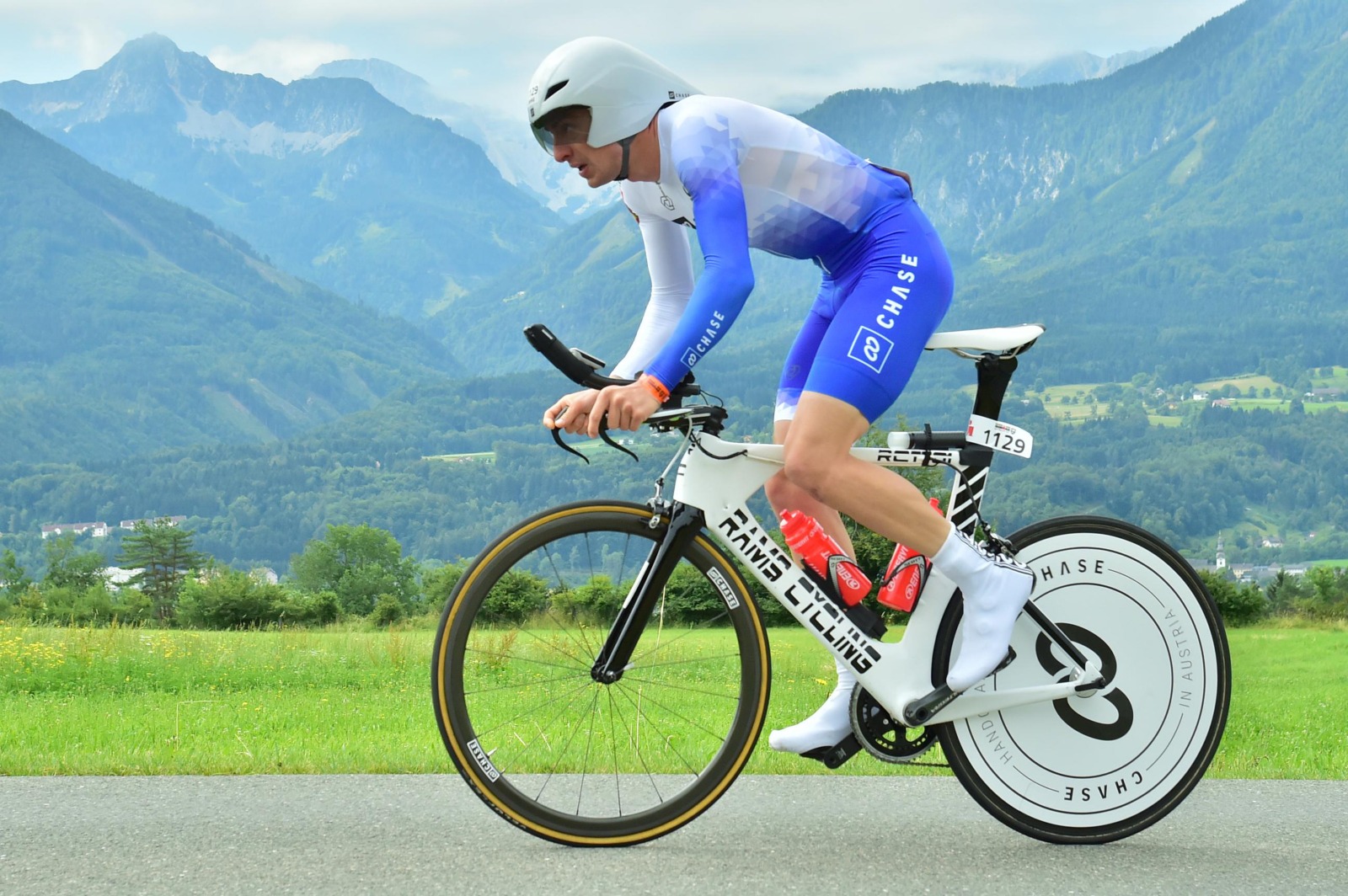 /wp-content/uploads/2017/07/handcrafted-01-vergrößert-280x300.png
0
0
Caro
/wp-content/uploads/2017/07/handcrafted-01-vergrößert-280x300.png
Caro
2018-07-01 08:06:38
2018-08-01 14:02:52
Ironman Austria Klagenfurt 2018